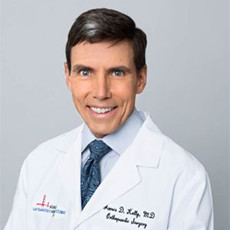 Education:
Board certification
American Board of Orthopaedic Surgery, 2002
Recertified, 2012
Education
Undergraduate
University of Rochester, Rochester, New York
MD, B.S., Chemical Engineering 1981-1985
Medical
Vanderbilt University, Nashville, TN
MD, Medicine 1985-1989
Internship
Oakland Naval Hospital, Oakland, CA
General Surgery 1989-1990
Residency
University of Missouri, Kansas City, Kansas City, MO
Orthopaedic Surgery 1995-1999
Military
Naval Aerospace Medical Institute, Pensacola, FL
Aerospace Medicine 1990
Fellowship
California Pacific Medical Center, San Francisco, CA
Upper Extremity (Shoulder, Elbow, Wrist, Hand) 1999-2000
Hospital/academic affiliations
Hospital
California Pacific Medical Center | San Francisco, California
Society memberships
State Society Memberships
State Medical Society
State Orthopaedic Society
Specialty Society Memberships
Arthroscopy Association of North America
Additional Society Memberships
San Francisco Medical Society
Western Orth
Specialty:
Sports Medicine
Orthopaedic Surgery
Shoulder and Elbow Surgery
Address:
The San Francisco Shoulder Elbow and Hand Clinic
2351 Clay Street
Suite 510
San Francisco, CA 94115
My approach to treating patients
I believe that knowledgeable patients make the best decisions about their own treatment. Your health and quality of orthopaedic care are my top priorities. I strongly believe the most successful patient care results from a two-way treatment process.
I am a specialist in surgery of the Shoulder and Elbow and practice in San Francisco. I have a research interest focused in shoulder replacements. In particular, I am part of a development team for the "Reverse" shoulder replacement. This device provides a solution to many patients with previously unsolvable shoulder problems involving arthritis and rotator cuff disease.
My work is also heavily concentrated in treatment of athletes and active patients using minimally invasive techniques such as arthroscopy. Arthroscopic tools and techniques are used in my practice to facilitate quick return to work and sport.
My partners and I are academic physicians, and our office delivers state of the art orthopaedic upper extremity care in a private practice setting. We educate and train two orthopaedic surgeons per year in Surgery of the Shoulder, Elbow, Hand, and Minimally Invasive Arthroscopy of the upper extremity.
Please feel free to contact us anytime with any questions, comments or concerns. We'd love to hear from you!
---