Parking
Morning Rate: (Entry before 1 pm)
Each 20 mins: $4.00
Daily Maximum: $30.00
Afternoon Rate: (Entry after 1 pm)
Each 20 mins: $2.00
Daily Maximum: $20.00
After Hours Opening fee: $25.00
Parking Garage Hours of Operation
Monday – Friday: 5:30 AM to 9:00 PM
Saturday & Sunday: Closed
Garage Website:
1635divisaderogarage.com
Patient Parking
The parking garage entrance is located on the south side of Sutter off Divisadero. The name of the garage is the San Francisco Medical Center.
There is metered parking surrounding the facility block. There is non-metered parking a few blocks away from the facility.
The garage will allow the center to validate a quick patient pick-up that lasts less than 15 minutes.
When your patient is ready to go home:
You will need to move your car to the parking garage FLOOR 2
(Entrance on Sutter between Divisadero and Broderick, see map below)
Patient pick-up space is located in front of the Floor 2 elevator (purple doors) next to the wheelchair ramp, please park here.
If the patient pick-up spot is taken, please park in the tandem spots on the LEFT side of the garage. Please park as close as possible to the wheelchair ramp/entrance, to ensure easy loading of your patient into the car.
Once you have parked, enter through the door at the top of the wheelchair ramp. Be sure to bring your parking ticket with you for validation.
Once inside, check in with the receptionist who will then validate your parking for 1 hour and direct you to your patient.
Before exiting the garage you will need to process your validated parking ticket in the machine located next to the Floor 2 elevator (purple doors).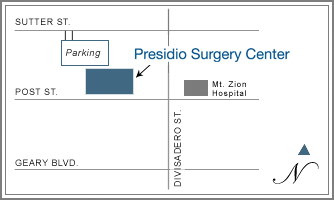 Driving directions to Presidio
From the North Bay:
Cross Golden Gate Bridge
Stay on Doyle Dr towards "Downtown"
Veer right onto Lombard St
Turn right on Divisadero St
Turn right onto Sutter St
Pull into the parking garage on your left.
Entrance is on the second level of the garage
From the East Bay:
Cross Bay Bridge, the signs for Golden Gate Bridge
Follow signs to Fell St Exit.
Take Fell up to Divisadero and turn right on Divisadero
Turn left on Sutter
Pull into the garage on your left
Entrance is on the second floor of the garage
From the South Bay:
Come up 280 to 19th Ave.
Stay on 19th until it turns into Park Presidio
Turn right on Geary blvd
Turn right to turn left on Divisadero St (no Right turn available, must turn left and make a U turn)
Turn Left onto Sutter St
Pull into the parking garage on your left
Entrance is on the second floor of the garage